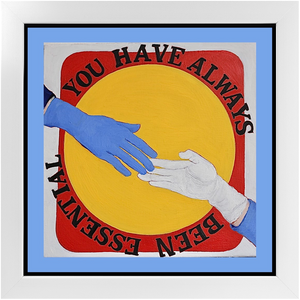 This open edition framed digital print of Annika Connor's For the Heroes painting is based on her For the Heroes oil painting which is a 12" x 12" oil on linen.
This 16" x 16" digital print artwork is made in the USA and comes with a white classic wooden frame.
This contemporary art print will add an elegant, modern look to any home or office. The print makes a great gift for any Essential Worker you may wish to say thanks to this year.
Each print comes framed and ready to mount with built-in metal hangers and comes in a stylish white finish.
Annika Connor painted For the Heroes in New York in the Spring of 2020 during the height of the COVID-19 crisis.
This painting was inspired by her doctor siblings who are still actively treating Coronavirus patients and honors all those who have always been essential, but who have become even more heroic during this terrible pandemic.
Please Note: This is an open edition print that will be shipped directly to you and is not signed. If you want a signed edition please contact annikasartshop@gmail.com to make special shipping arrangements at an additional cost.