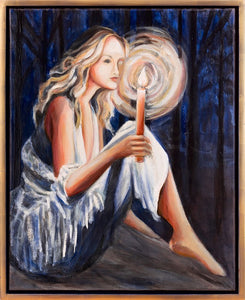 This original, one-of-a-kind, oil painting is titled Early Days by Artist Annika Connor. Made in Brooklyn, this Oil on Linen evokes fairytales and a sense of magic. 
Framed in a beautiful custom black floater frame with a yellow gold face, this medium-sized oil painting draws the viewer into a moment in time that seems set apart from the everyday. 
Mysterious lit by the light of a candle a Woman in White sits in a darkened forest. What is she waiting for? Why is she there? What is she hoping for? Artist Annika Connor asks you to ponder these thoughts as you gaze upon Early Days and create your own narrative. 
This painting is signed on the back and is sold framed. 
This painting is currently on display in the artist's Brooklyn studio. 

Early Days
20" x 16"
Oil on Linen