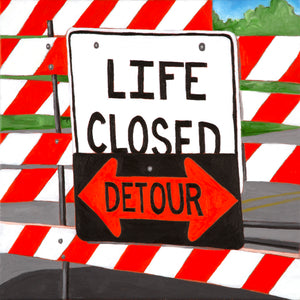 This original one of kind oil painting, Sign of the Times, is by artist Annika Connor. 
This piece Sign of the Times, is an unframed 12" x 12" Oil on Linen painting and the first piece in the Artist's Sign of the Times series which began at the start of the Pandemic in the Spring of 2020.
Inspired by a road-closed sign Annika Connor saw while on a road trip in the Mojave Desert in January of 2020, Connor painted this piece with the wordplay variation while in Brooklyn in Quarantine under a self-imposed studio lockdown in March of 2020.
At the time it felt to the Artist that all Life's plans had been detoured. Creating this little humorous oil painting served as the Artist's touchpoint and road map for the days ahead as the Pandemic progressed. 
After painting this piece Sign of the Times, Connor felt inspired to start a series under the same name and to create a variety of other sign-inspired paintings as Annika searched for direction in a climate of crisis and chaos. 
This painting is signed on the back and framing is available at an additional cost. Private message to after purchasing to arrange framing before shipping. 

Sign of the Times
12" x 12"
Oil on Linen