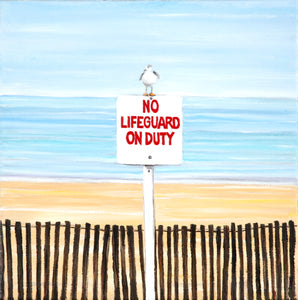 This original, one-of-a-kind, oil painting, Sink or Swim, is by artist Annika Connor. Painted during the Spring of 2020 Sink or Swim is an unframed 12" x 12" Oil on Linen painting and a piece in the Artist's Sign of the Times series which began at the start of the Pandemic.
When Annika Connor shared this piece on social media in 2020 she said: "I share this painting, Sink or Swim today as a little reminder that despite the safety nets not being in place, it's still up to you to dive in or fly up. Life may feel limited or static at this stage in the Pandemic. You may feel isolated or alone.
Perhaps you are in solitude as you read this. Even in isolation, we are together apart. But we are not alone. We may not have a Life Guard on Duty, and depending on what you believe the landscape of the larger picture may be up for debate, but there is one thing we all know. One thing we all believe in, and is the universal acknowledgment that you have an imagination and the capacity to use it.

With your imagination to guide you the possibilities are endless.

If I can request, please let this piece be a reminder to throw some lighter fluid on the creative spark in your heart. We ALL have the capacity for creativity.

If you want to give a gift to your heart, please listen to my whispered encouragement and follow that dream that has been calling to you. Pick up a paintbrush, an instrument, a pen, a needle and thread, and ingredients in the kitchen, and start to play today!

Play with your dreams for no other purpose but for the delight of doing something you enjoy. Feel the love, see the light, dance in the shadows. Now is all that is in front of you. Spend it with your spirit soaring to new directions as the potential you carry in you gets a chance to shine."
This painting is signed on the back and framing is available at an additional cost. Private message Annika's Art Shop after purchasing to arrange framing before shipping. 
Sink or Swim
12" x 12"
Oil on Linen

Annika Connor